About Shinjuku Free Walking Tour
YOKOSO Shinjuku is offering Free Mini-Guided (Walking) Tours around Tokyo's commercial and administrative centre, Shinjuku district. Volunteers will help you explore this area mostly around Shinjuku East Exit where our head office is located.
Volunteers will refer to people as "guests" rather than a customer, providing you with an exciting perspective on one of Tokyo's major stops and largest entertainment, business and shopping districts.
We are not professional guides; however, we do love to share our excitement for this part of the city. We have also been based in Shinjuku a long-time and have become very familiar with variety and range of restaurants, shopping malls and popular amusement spots, which we are sure you will enjoy. We intend to help you to get around and make the most of your time.
We hope you have a great time in Japan!
Tour Schedule


Hanazono Shrine → Golden Gai → Kabukicho → Omoide Yokocho → Cine City Square → Goal♪


Tour Schedule::Every Wednesday and Saturday
Tour Time: 11:00 – 13:00 / 14:00 – 16:00 (around 2 hours Walking Tour)
*Only single groups of women, couples and females can participate in a tour.
We cannot provide this tour for single males only.
(We will consider several male groups only if there has been an introduction from past participants).

---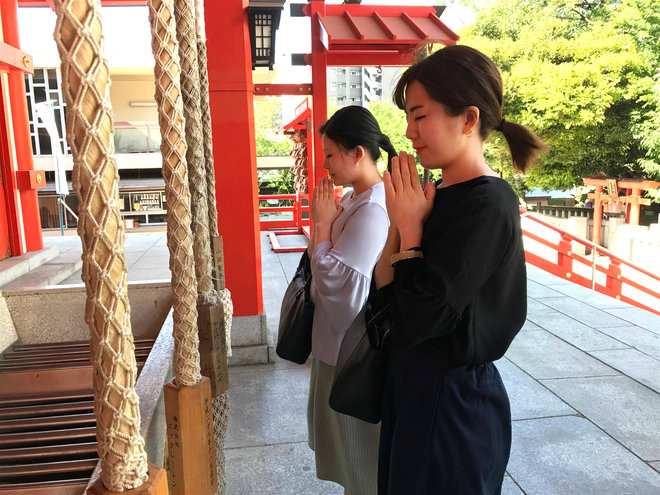 Hanazono Shrine: Meeting point
Since ancient times, Hanazono shrine is enshrined as the guardian god of the town of Shinjuku. The way of counting God is called "Hashira" and there are three kinds of hashira in Hanazono Shrine.


---
Golden-Gai
There is an area in the narrow alley between Hanazono Shrine and Shinjuku promenade, where small counter snack / bars are gathered.
This area is called Golden Street.


---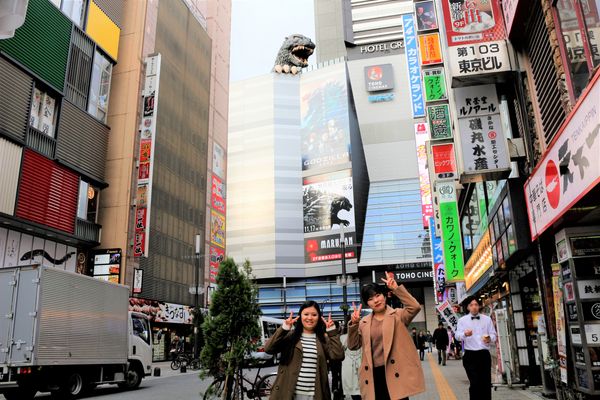 Kabukicho
Kabukicho is a place that was named "The city that never sleeps". It is one of the best entertainment streets that even bright in the midnight with neon.


---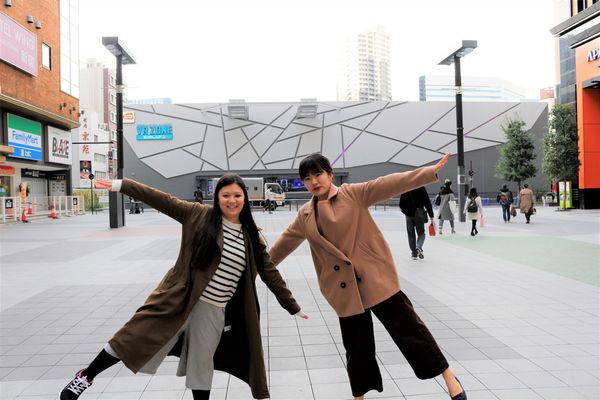 Cine City Square : Dismiss / GOAL point
This is a space used as a venue for public events, anniversaries, local festivals, music events and many more. Youtubers and tourists often take videos in this area. Right behind this area can be found VR ZONE SHINJUKU, which has become very popular these days.
---
If there is a desire to go to lunch after the tour, it is also possible to introduce shops that the guest hope to visit. But, if the guide staff is accompanied by a request from the guest for a meal or tea, the charge for that staff member should also be bared by a guest.
Other requests, such as shopping and entertainment spots about 2 hours at Shinjuku east exit, as well as accompanying requests will be accepted.
Please feel free to contact us via email.

---
Policies and Terms of use
In order to participate, please carefully read the following Policies and Terms of use, to understand our policy and comply with it.
The guide always goes in pairs. We are a volunteer so when our office work is busy and sometimes tours are not available.
1. The cost is free because it is organised for the purposes of our guests so that they can enjoy the Shinjuku Area.
2. For each guide, the number of guests is limited to 4 people.
3. The guide is available in English, Chinese, Korean and Nepalese languages.
4. If there is a desire for guests to go to the Sushi Shops, Japanese Pubs, Restaurants, etc., it is also possible to introduce you to other shops that you hope to visit.
5. If the guide staff is accompanied by a request from the guest for a meal or tea, the charge for that staff member should also be beared by a guest.
6. Shinjuku Free Walking Tour and its guides are not responsible for any damage, injury, theft, or loss of valuables suffered by the guest during the volunteers sightseeing tour. Please be aware that these come at your own risk.
7. Because it is a volunteer orientated guided tour organised during intervals of their job on the weekend, we may refuse the guide if we are busy with work or if we judge it as unreasonable for some reason.
8. If the guide feels uncomfortable due to the following acts received from the guest, we will terminate the guide service at any time during the tour.
・Intoxication and illicit behavior
・Request involving in sexual tourism
・Changing significant time and course on the day
・Request for guidance to sex industry such as customs relations
---
Guide Staff