Koshu Ichiba (広州市場 新宿東口店) is a restaurant popular for "Wantan". Here you can choose your favorite soup from salt and soy sauce.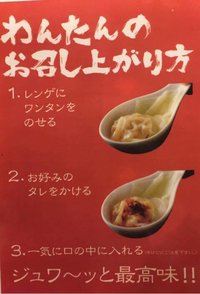 Wantan of this restaurant is like a Shoronpo (Steamed Soup Dumpling). Put Wanton in a Chinese spoon, apply a sauce and eat. It's very juicy when you put it in your mouth. It's exquisite salty soup with meat and chewy skin has matched each other perfectly, which is very delicious!
There are 4 types of sauce which are "Taberu Rayu (Chili oil paste)", "Ninniku Shoyu (Garlic soy sauce)", "Shio Shoyga dare(Salt ginger sauce)" and "Tamanegi Dare (Onion sauce)".
The best thing about this restaurant is that, you can enjoy various tastes!
1st floor of this restaurant has a counter seat, where you can see a single woman customer too. And there is a table seat in a basement.
This restaurant is crowded at a lunch time but the customers who stay for a long time at night seems less, so the rotation is pretty early.
There are variety of set menus such as Gyauza (dumpling) + Wantan set meal (with wantan soup) is 820 yen,Wantan noodles+ Luro-han (Minced pork rice) set 1,026 yen and much more.
Information
| | |
| --- | --- |
| Restaurant Name | Koshu Ichiba Shinjuku Higashi-guchi branch (広州市場 新宿東口店) |
| Address | KB Bldg. 1F, 3-17-13 Shinjuku, Shinjuku-ku, Tokyo |
| TEL | 050-5592-7664 |
| Business Hour | 11:00-24:00 (L.O 23:45) |
| Closed | None |
| Access | 194m from "Shinjuku Sanchome Station" |
NOTE: Shops information such as price, cuisine contents, opening hours, closing time or additional details may be subject to change, so please be sure to check the latest information directly at the shop.
Access Map