"TSI Shinjuku Tower" rose up in Nishi Shinjuku on January 2018 with the theme of "Shokuju Kinsetsu 職住近接 (having one's workplace near one's home)". It is a large complex rental mansion that gathered functions which have an advantage to both work and private life. In addition to fine-grained concierge service, there is also a party room and a guest room.
We would like to introduce you to the charming tower residence that will promise to provide you a hotel-like life experience!
---
The high-grade rental mansion creates a wide range of applications and value.
TSI Shinjuku Tower has two entrances. At the first floor main entrance there is a Mercedes Benz showroom (Nishi-sando guchi). For even just that, I feel more upscale living.
It is a 3 minute walk to the lush Central Park and 15 minutes to Yoyogi Park. There is also a lot of fashionable shops around this area. Since it is an area where can access three different stations i.e. Shibuya, Shinjuku and Tochomae, convenience offers you many options for shopping and gourmet dining.
Shared facilities full of heartfelt hospitality
In the party room on the top floor 24th floor, you can spend a pleasant time with your family and friends while enjoying the view over the big city, without any hesitation it will be a place you will enjoy. Furthermore, it is also possible to ask the staff if you can stay in one of their spacious guest rooms.
・Concierge service
There is also 'Paid Service' such as from cleaning and disposal collection to housekeeping, babysitter and many more. It offers a wide range of services to increase the convenience of the tenants.
・Rental office "Biz smart"
In Biz Smart, there are two types of service, one is a "Service Office Member" which is suitable for both individual and corporate offices or satellite offices and the another one is "Co-walking Member" which is where you can use co-working space. There is also a front concierge who will provide support to customers such as guest services etc. WiFi, copy machine, free drink and many more services are also available. In additional, there is also a "1 DAY usage" which can be used at the time of a business trip and outside during times of sales.
・Rental storage space "M storage"
Here you can keep your memorable items, golf bags and documents. For this you will need a separate contract.


Room Information
The room has a very stylish design. There are two patterns used, one is 'Calm Dark Brown tone' and the another is a 'Beige tone' that accentuates a sense of cleanliness.
Room Floor Plan
Full security
The security system is also to a high standard. Crime prevention equipment is used and in places like Entrance, front of the Elevator and the main room security cameras and an interphone can be made available. This will definitely make your stay feel safe and secure.
Furnished Room
Besides general rental, there is also a furnished room. The target room is No.1502. (1K B type 30.37㎡) 
No Key Money (礼金なし) Monthly rent will cost you 151,000 yen
You can use it as a second room and for those who want to live alone.
List of item installed in the furnished room
| | | | |
| --- | --- | --- | --- |
| Bed | Desk Set | Curtain | Refrigerator |
| Washing Machine | 32-inch TV | Microwave | Vacuum cleaner |
Property Description
Building Name: TSI Shinjuku Tower Mansion
Access:
(1) Keio New Line "Hatsudai Station walk 5 min.
(2) JR Yamanote Line "Shinjuku Station" walk 13 min.
(3) Toei Oedo Line "Tocho-mae Station" walk 11 min.
Address: 3-9-7 Nishi-Shinjuku, Shinjuku-ku, Tokyo
Built: January 2018
Moving date: Immediate
Structure / Scale: 24 Floor
Floor Plan / Area: 1K, 1LDK 30.32㎡ – 59.29㎡
Rent: 113,000 yen – 234,000 yen (Dwellings with storage include storage rent and consumption tax)
Key Money (礼金): 2 month  Deposit: 1 month  Administration fee: 1K: 10,000 yen / 1LDK: 15,000 yen
Renewal fee: 1 month rent
Insurance: Subscription required
Equipment / Remark: Hotel-like / Concierge / Party Room / Guest Room / Double Auto Lock / Security Camera / Elevator / Home Delivery Box / Garbage Collection Place (On Site) / Bicycle Parking Space (with Covered) / BS / CS / Flooring / Double Glass / Door phone with Monitor / Entrance Key (1 key 2 lock) / Home security (SECOM) / Floor heating (1LDK) / Water heater (1LDK has an additional heating function) / Bathroom dryer / Washing machine place (indoor) / Dressing Room / Indoor clothes drying
Lender: Sekiwa Real Estate Ltd.
Other (paid service): Guarantor Company 'Rakuraku partners', Initial cost 21,600 yen and monthly 1% of the rent
TSI Official HP: http://shamaison.mast-net.jp/sp/shm/
Access MAP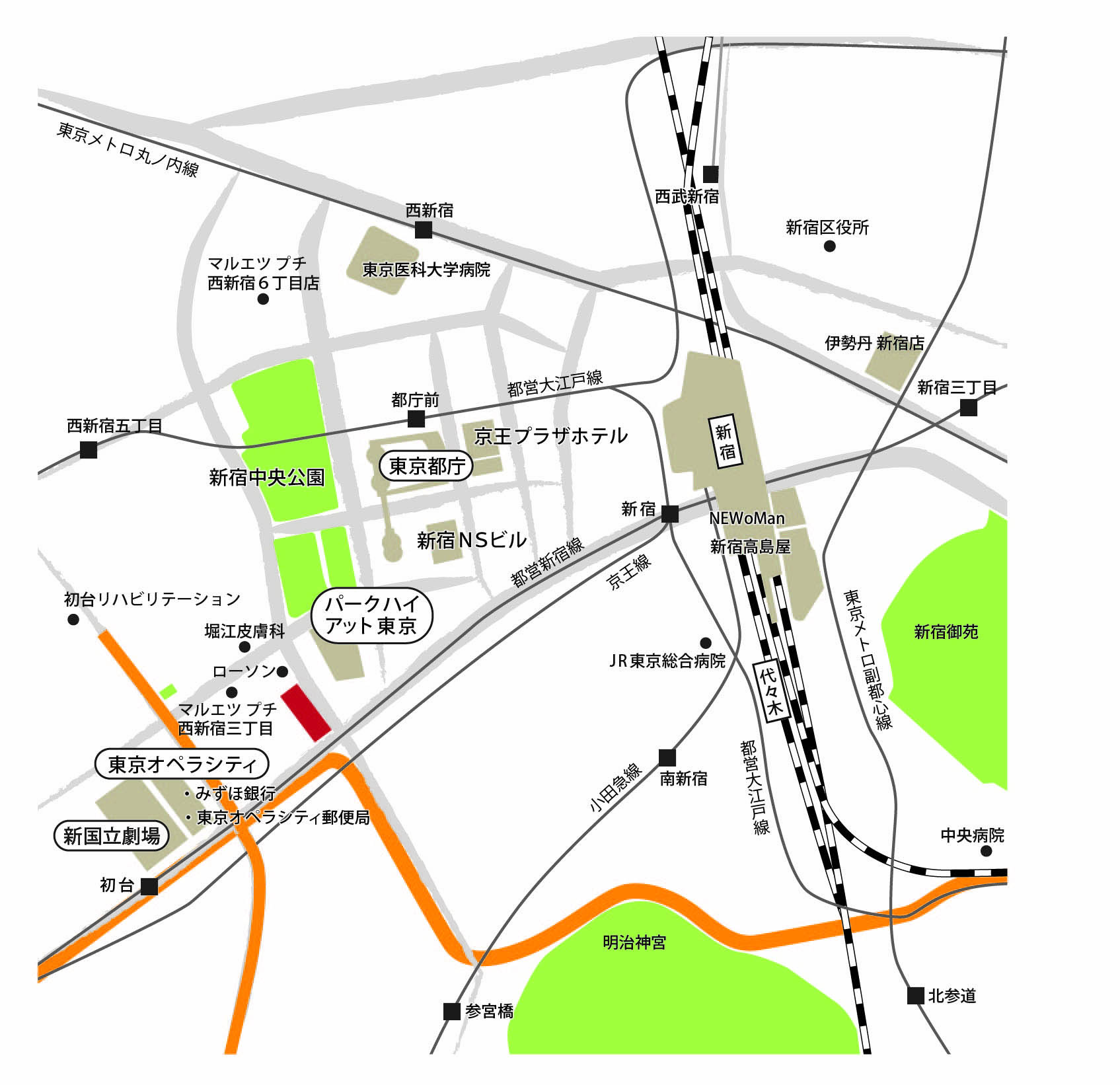 Shinjuku Central Park and Opera City are only a few short minutes' walk away. On holidays you can also enjoy visiting local cafes and shopping malls at Yoyogi Park and Harajuku.
---
If you have any questions about the property, please feel free to contact us by email.

At the time of inquiry by telephone, please be sure to tell that us you have seen this information from our website "YOKOSO Shinjuku".